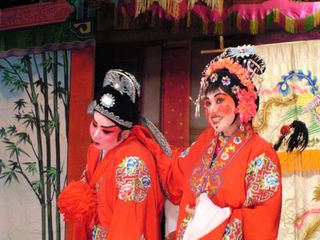 It was one of the Chinese deity's birthday celebration and a two-months long Hokkien opera festival is being organised by this temple in Paya Lebar. I had promised my net friends in a particular Hokkien opera forum that I would take some pictures of the performances. Therefore after dinner, I packed my camera into my bag and cycled off to the temple.
There was a considerable crowd at the stage, so I thought this troupe performing tonight might have standard. But after watching for an hour, I was getting bored. The plot is moving at snail pace and I could not find any good angle or theme for me to take pictures. I got so bored that I decided to cycle across the road to another temple, hoping they have opera performance too. Thankfully there was, but it was Teochew opera. It was a pleasant change; the show wasn't draggy, and I was able to take quite a number of good pictures, though some were blurred as I did not adjust the focus settings correctly.
I am a Hokkien, and I like grew up watching Hokkien opera. But now, I am actually enjoying Teochew opera more than Hokkien opera! As a matter of fact, for the past 2 years, I haven't been able to sit through a night of Hokkien opera (less those by foreign Hokkien opera troupes), an opera genre which is spoken and sung by my all-so-familiar Hokkien dialect, but I am able to watch an entire Teochew opera from head to toe, even though Teochew dialect can be a bit hard to understand for me at times. Sometimes I felt as if I am a traitor for "betraying" Hokkien opera, especially since I myself is a Hokkien opera actor by hobby, but what can I do? What can I do when I have been left disappointed again and again by the opera which accompanied me through childhood days till now? Sometimes I'd like to imagine how nice it would be if Hokkien opera can have be more systematic like Teochew opera, but that would be impossible. So, I can only dream... dream on, dream on...